Discover the Winter 2021 program of the webinars offered by IID (Institute Intelligence and Data) at Université Laval!
From January 29 to June 11, 2021, ten webinars will be presented by IID (Institute Intelligence and Data) at Université Laval as part of its regular programming for the winter-spring 2021 season. Organized by our Scientific and Ethics Officer, Schallum Pierre, this series of presentations is open to all and focusses on issues associated with confidentiality and access to data and artificial intelligence.

The protection of personal information in the context of university research
29 January 2021, 12h to 13h
with Édith Deleury, Pierre-Luc Déziel and Philippe Després, Université Laval
Philippe Després will begin by discussing the mechanisms of access to personal information and explain how access to this data can be managed. Then Pierre-Luc Déziel will offer a more legal analysis of access to personal information by attempting to illustrate how researchers' personal information management and protection practices resonate in the current legal framework.
The smart proactive city
5 February 2021, 12h to 13h
with  François Bédard, Conseil d'identification et d'authentification numériques du Canada (CCIAN) (Digital Identification and Authentication Council of Canada)
Historically, municipalities have known how to transform and adapt to the new realities with which they were faced. For several months now, this adaptation has required the use of new technological tools and a regulatory framework based on digital identity in order to protect citizens. Discover the major current, future and potential trends.
DevSecOp's Challenges and Opportunities
12 February 2021, 12h to 13h
with  Mehdi Mekni, University of New Haven
In the past few years, DevOps emerged as a paradigm merging agile software development and operations into a single multi-disciplinary team. DevSecOps extends the principles of DevOps while being driven by software quality, security, and compliance with requirements. This webinar will offer an overview of DevSecOps's foundations, challenges and future opportunities.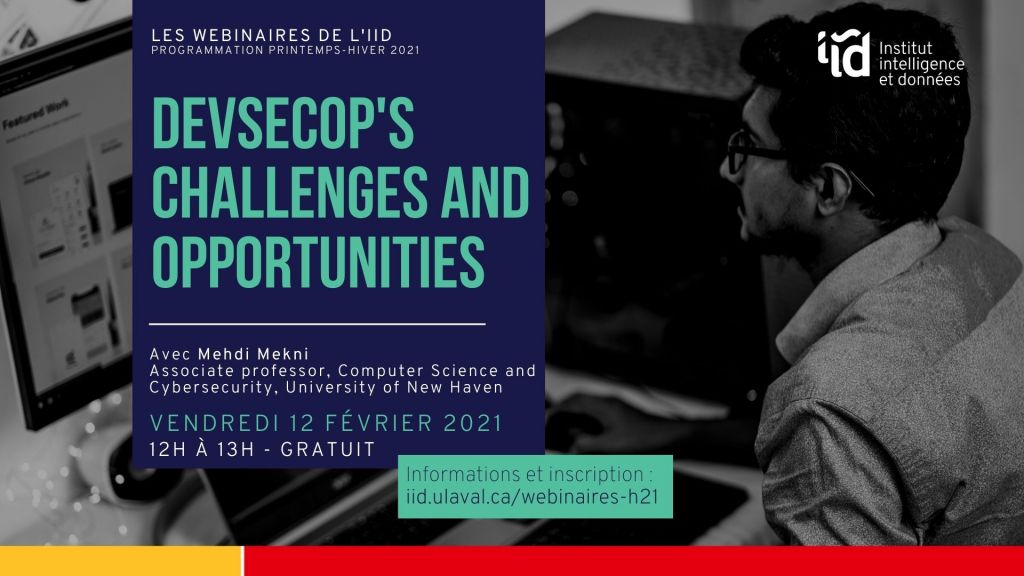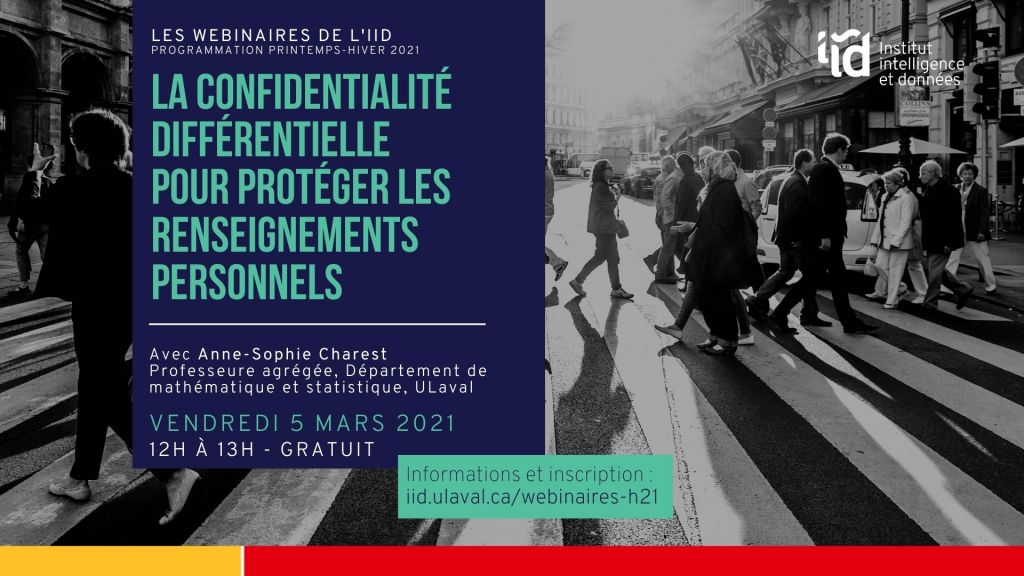 Differential confidentiality to protect personal information
5 March 2021, 12h to 13h
with  Anne-Sophie Charest, Université Laval
Professor Anne-Sophie Charest, from the Department of Mathematics and Statistics of the Faculty of Science and Engineering of Université Laval, offers a basic introduction to differential confidentiality, emphasizing the interpretation of the measure and the tools necessary for its implementation in different contexts.
Introduction to Quebec City open data
12 March 2021, 12h to 13h
with  Feng Ding, Ville de Québec
A look at the open data available in Quebec City, data available for the development of applications for citizens, through the eyes of Feng Ding, Information Systems Advisor in the Quebec City Information Technologies Department (Direction des technologies de l'information de la Ville de Québec).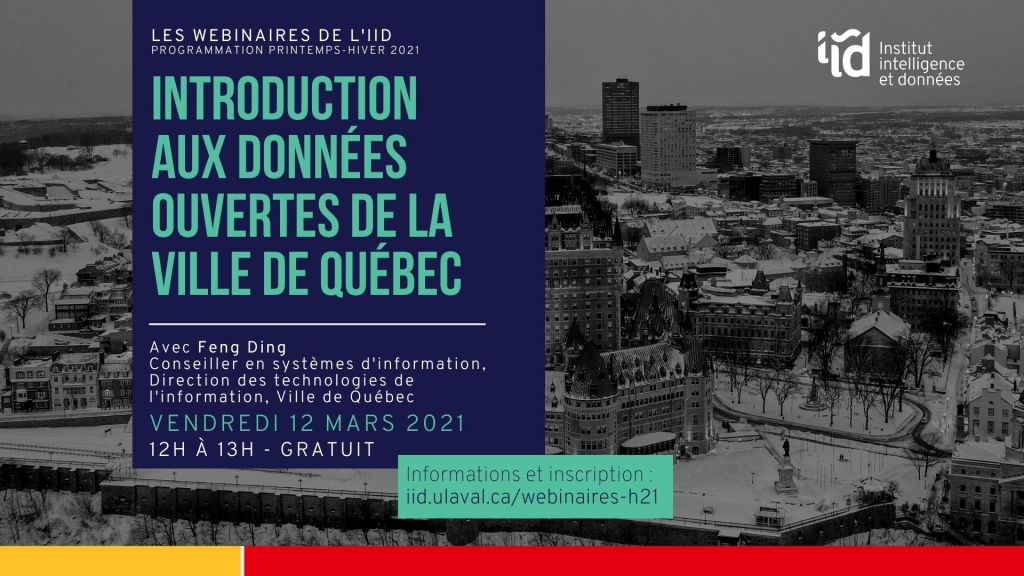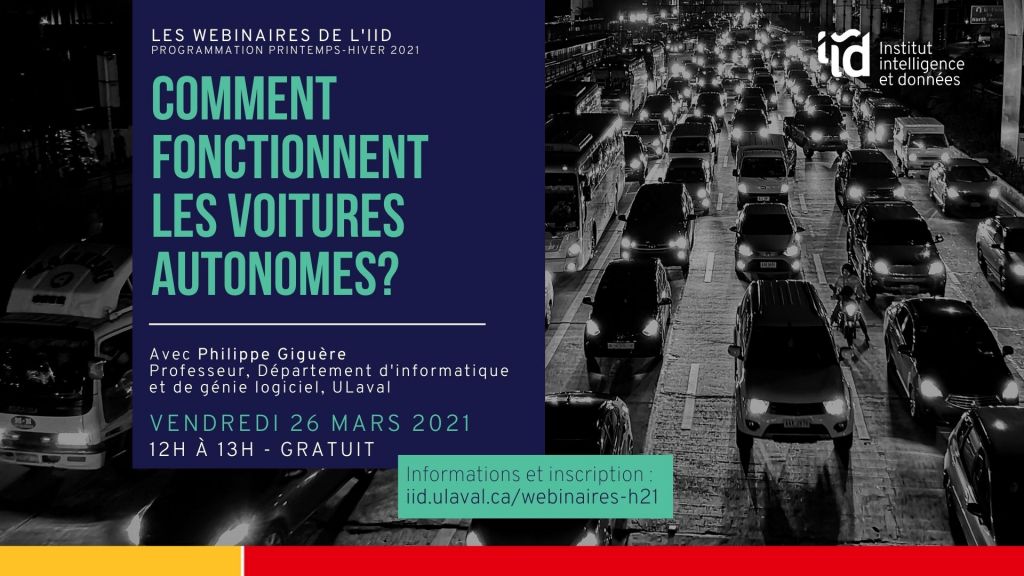 How do self-driving cars work?
26 March 2021, 12h to 13h
with  Philippe Giguère, Université Laval
This presentation by Professor Philippe Giguère, from the Faculty of Science and Engineering, aims to demystify the technology behind these vehicles, which is based on two booming fields: artificial intelligence and mobile robotics. Issues associated with the use of consumer cars to collect training and test data will also be discussed.
Artificial intelligence and cybersecurity: protect your innovations!
23 April 2021, 12h to 13h
with  Marthe Anaïs Kambou, CyberSérénIT
How do you identify cybersecurity risks associated with AI? What are the right cybersecurity questions to ask yourself before embarking on an AI project? What are the possible security solutions? How to choose and implement them? These are all questions that will be addressed during this conference.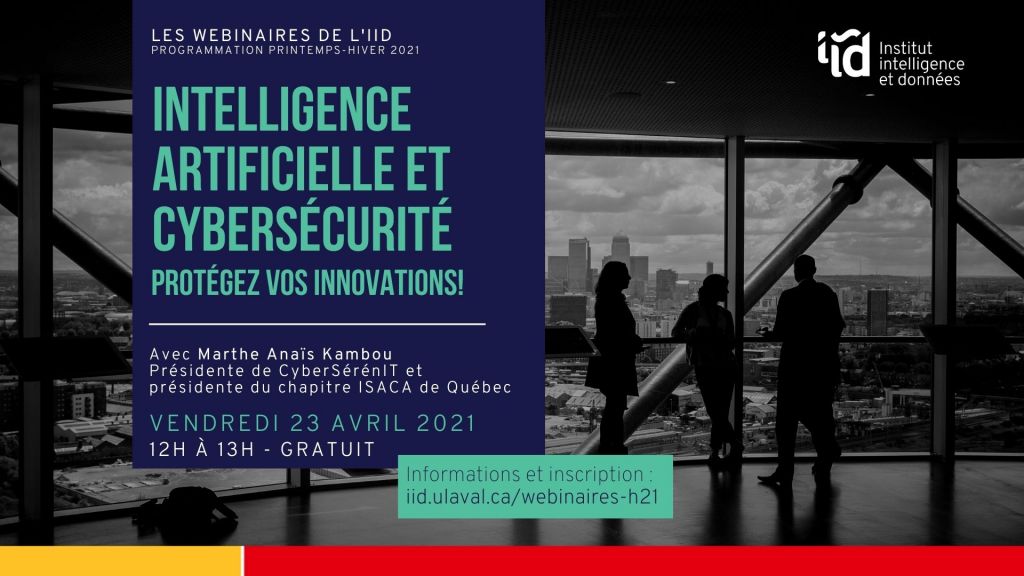 Issues and challenges of artificial intelligence in cybersecurity
14 May 2021, 12h to 13h
with  Charles Varin et Renaud Brien, CyberQuébec
The explosion of the use of AI, due in particular to the proliferation of connected objects, represents a major challenge in cybersecurity. In this webinar, Charles Varin and Renaud Brien, from CyberQuébec, will provide an overview of the issues and challenges associated with artificial intelligence that current cybersecurity practices are facing.
Machine learning techniques in cybersecurity
28 May 2021, 12h to 13h
with  Fehmi Jaafar, CRIM
In this presentation, Fehmi Jaafar, researcher at the Computer Research Institute of Montréal (CRIM), will discuss the application of machine learning techniques in cybersecurity. An overview of research projects that deal with several aspects of this issue and the ensuing results will be presented.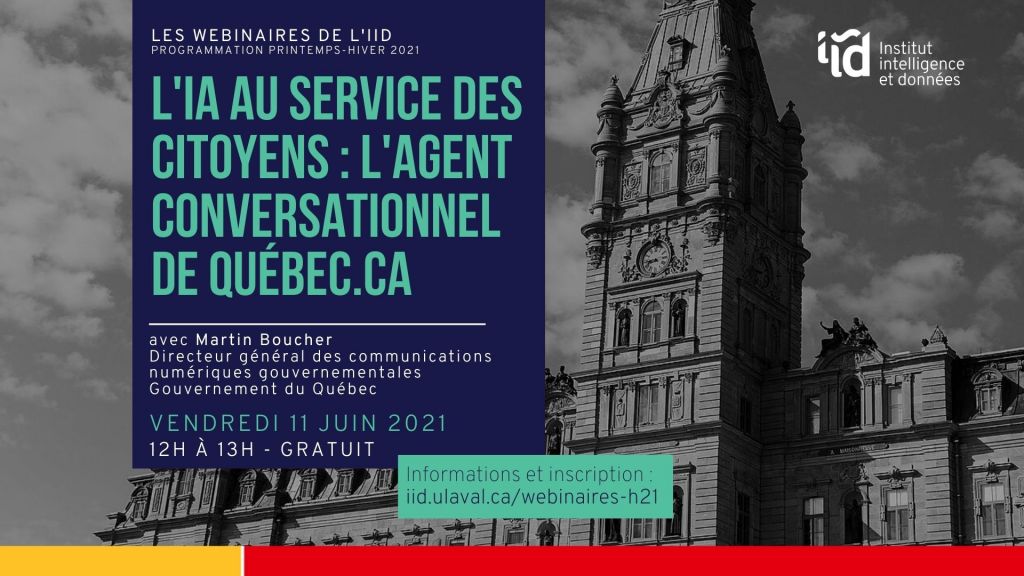 AI serving citizens: the conversational agent of Québec.ca
11 June 2021, 12h to 13h
with Martin Boucher, Gouvernement du Québec
The implementation of the Quebec.ca conversational agent is the very first AI project in a real context of serving citizens in the Quebec provincial government. This project was the result of unprecedented collaborations and has provided many surprising and valuable lessons. This webinar describes the deployment of this solution, but also the benefits and future prospects associated with AI in the government of Quebec.
Let's keep in touch!
Would you like to be informed about IID news and activities? Subscribe now to our monthly newsletter.