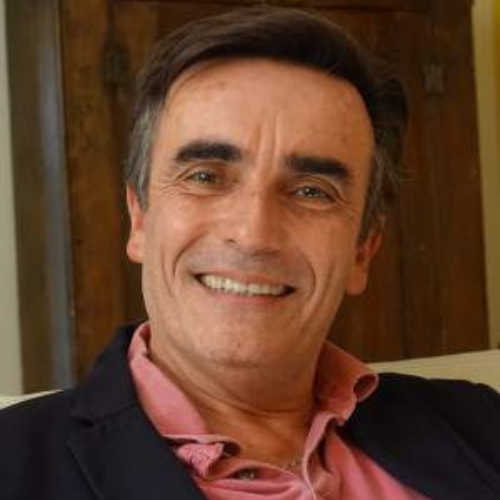 Université Laval
Faculté of Litterature and Human Sciences
Department of Information and Communication
Full Professor, Faculty of Literature and Human Sciences
Thierry Watine was planning on spending a few months in Gabon. But a last-minute change of plans led him to settle in Moncton, New Brunswick. He instantly fell in love with the country. "I felt like I was born on the wrong side of the ocean," he said. Nearly 30 years later, this Frenchman still lives on this side of the Atlantic, well established in Quebec.
A graduate of the Lille School of Journalism with a specialization in radio, Thierry Watine trained as a morning man at the regional radio station Arc-en-Ciel in Lille. He then dabbled in written press at the daily La Voix-du-Nord. With this experience in the field and his diploma of advanced studies in communication science in his pocket, the young journalist accepted a professorship at the Université de Moncton in 1987. The call from the University in the middle of the night forced him to cancel a long, well-planned trip to Latin America…
Thierry Watine has been teaching in the Department of Information and Communication at Université Laval since 1998. It is when he stands in front of a class that he feels the most useful, the most alive. His dearest wish: to make students want to be journalists. "I had so many bad teachers! You have to know how to move the students forward without annoying them. You have to have fun and not take yourself too seriously."
In addition to his teaching duties, Thierry Watine was director of the Graduate Diploma in International Journalism from 2003 to 2006, associate director of the Master's degree in public communication with internship and essay in journalism, and then became director of the Department in 2009. His goal for the next few years: to modernize teaching and develop bolder lines of research in public communication. "We have to prepare for the end of paper, reach for the future while maintaining certain values ​​from the past."
Fields of Interest
Multiplatform journalism, multimedia writing
Journalism – hybridization of media categories and journalistic genres
Francophonie
Minority communities
Research Thrust
Ethics, Confidentiality and Social Acceptability
Research Group
Centre d'études sur les médias
Let's keep in touch!
Would you like to be informed about IID news and activities? Subscribe now to our monthly newsletter.