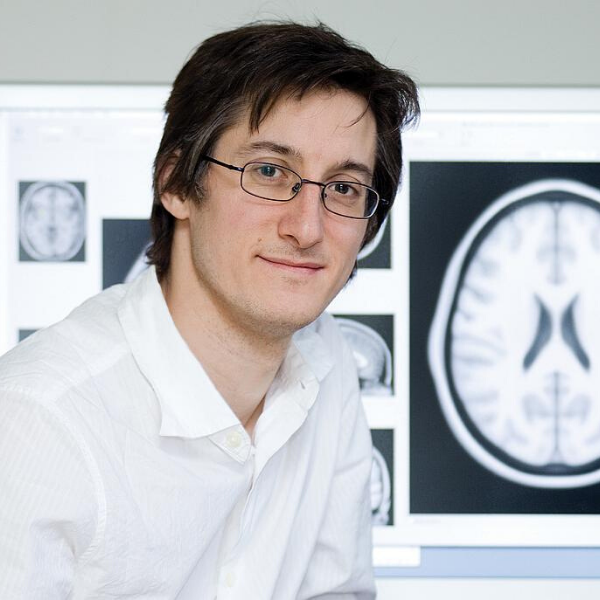 Université Laval
Faculty of Medicine
Department of Radiology and Nuclear Medicine
Director, Consortium for the Early Identification of Alzheimer's Disease – Québec (CIMA-Q)
Full Professor, Faculty of Medicine, Université Laval
Director, Consortium for the Early Identification of Alzheimer's Disease – Québec (CIMA-Q)
Leader of the Neuroimagery Platform, Canadian Consortium on Neurodegeneration in Aging (CCNA)
Simon Duchesne is a Biomedical Engineer Researcher at the CERVO Research Centre of the Quebec Mental Health University Institute, and a professor in the Department of Radiology and Nuclear Medicine in the Faculty of Medicine at Université Laval. He completed his university studies at the Royal Military College in Kingston, Ont. (B.Eng., Engineering Physics), and at McGill University (M.Sc., Medical Physics; Ph.D., Biomedical Engineering). He has been in Quebec since 2007, following a post-doctorate in Medical Image Processing in Rennes, France.
Dr. Duchesne co-founded the MEDICS laboratory, dedicated to the development of predictive models for medical decision support. His main focus is on cognitive aging and the neurodegeneration associated with dementia, such as Alzheimer's disease. The overall goal of his team is to research and develop software solutions based on neuroimaging to model the human brain and its performance, in order to aid in the diagnosis and prognosis of cognitive disorders in adulthood and the elderly.
Co-founder and member of the executive committee of the Centre intégré de Neuroimagerie et Neurostimulation de Québec (CINQ), he is the director of the Consortium for Early Identification of Alzheimer's Disease – Quebec and leader of its neuroimaging platform, as well as the leader of the neuroimaging platform of the Canadian Consortium on Neurodegeneration in Aging. He is also a member of the scientific committee of the Quebec Bio-Imaging Network, and a member of the steering committee of the Big Data Research Center (CRDM) at Université Laval.
Areas of Interest
Medical imaging
Neuroimaging
Magnetic resonance imaging
Aging
Neurodegeneration and Alzheimer's disease
Biomarkers
Predictive models
Decision support systems
Research Groups
CERVO Research Centre
CIMA-Q
CINQ
Canadian Consortium on Neurodegeneration in Aging (CCNA)
IUSMQ
Quebec Bio-Imaging Network
Let's keep in touch!
Would you like to be informed about IID news and activities? Subscribe now to our monthly newsletter.